After almost a year in orbit, WA's first spacecraft re-entered Earth's atmosphere on October 1, 2022.
Binar-1, named after Noongar word for fireball, will become a fireball itself as it drops deeper into the atmosphere and burns up.
The spacecraft will be completely destroyed before it reaches Earth's surface. While the exact place and time of re-entry are difficult to predict, if it were to re-enter over an inhabited area, it would be noticeable as a brief "shooting star" in the night sky.
Downward spiral
Binar-1 was deployed into space on October 6 2021 from the International Space Station. It initially orbited around 400km above the Earth's surface, and above most – but importantly, not all – of the Earth's atmosphere.
The spacecraft operated in orbit for eleven days, with signals detected from ground stations around the world. The signals, as well as confirming that Binar-1 was intact and powered up, included beacon messages and some data about the spacecraft's systems. Unfortunately, the team was not able to access images or more complete data. Binar-1's last confirmed transmission was on November 2, 2021.
Over the past year, the spacecraft has experienced a small but significant amount of air resistance. This slows the spacecraft down, which causes it to orbit lower, which in turn causes the drag to increase more.
By the end of September, Binar-1's orbit had dropped to around 250km, and was predicted to re-enter over the first weekend in October. By Monday morning, we had identified Binar-1's last confirmed orbit, at 2:43 AM AWST. At an altitude of just 150km, it would have re-entered within hours.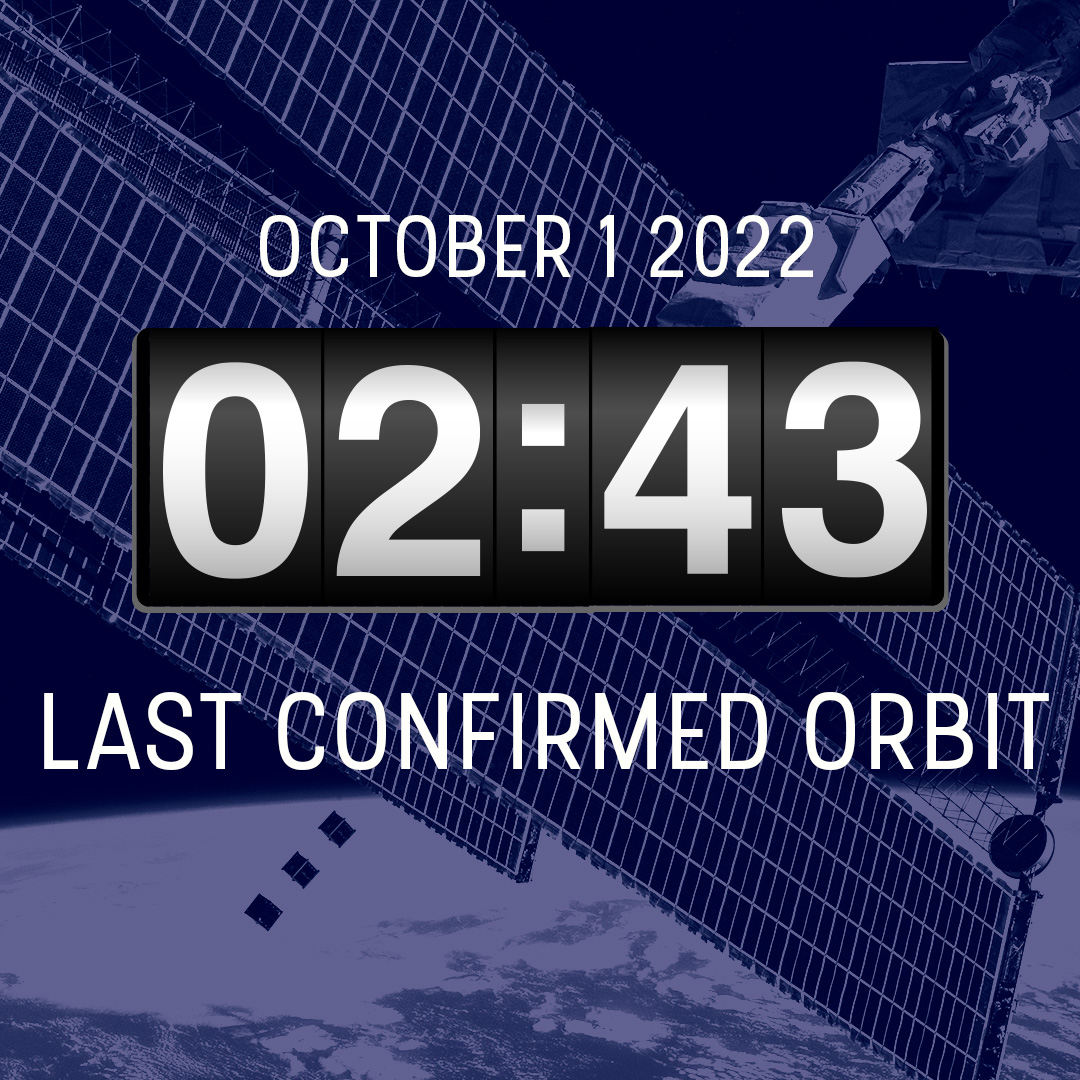 It completed 5636 orbital 'laps' around the Earth in 360 days, travelling over 200 million kilometres in total.
Predicting re-entry
These predictions rely on radar detection of the cubesat from Earth, and are able to predict roughly when, but not where, the spacecraft will re-enter – but future Binar missions will include technology to track the spacecraft as it re-enters.
This will give observers – including Binar's sister project, the Desert Fireball Network – a better idea of where and when the cubesat is re-entering. Eventually, we'd like to use this technique to predict, and then control, where our spacecraft re-enter.
Not only would we be able to capture our re-entry on our fireball cameras, but it also gets us one step closer to being able to bring samples and experiments back from space.
As well as our re-entry tracking experiment, our next missions will also include projects developed in collaboration with the CSIRO, our industry partners, and by students at Curtin university.
What's next for Binar?
We take what we've learned, and build our next mission!
The team presented a comprehensive summary of the Binar-1 mission, discussing problems we had, how they were solved, and what we learned along the way, at this year's SmallSat conference.
The next Binar mission is currently under development, based on those lessons, and is expected to launch in 2023. You can read more about our plans for the next mission in our other SmallSat conference paper, if you're interested.
Otherwise, stay tuned here and on social media for more on Launch 2!